Books and media on coping with grief, death, dying, loss
Losing someone close to you can be a painful and traumatic experience. And if someone you know is grieving, you may be struggling with what to say or looking for additional ways you can offer support. Browse by topic below to find books, videos and other resources to help you and those around you cope with the death of a family member or friend.
To suggest a book, DVD or CD others may find helpful, please contact us.
Understanding Grief, Living with Loss
Giving Sympathy and Support, What to Say and How to Help
Helping Children and Teens Through Grief
Losing Your Spouse or Partner
The Loss of a Child
Losing Your Mother or Father
The Death of a Sibling
Losing Someone to Suicide
When Someone You Love Is Dying
Leaving a Legacy
Honoring and Remembering
The Loss of a Pet
Taking Care of Your Body, Mind and Spirit
Memoirs about Coping with Loss and Grief
Fiction about Death and Dying, Life After Loss
Poetry, Quotations, Inspiration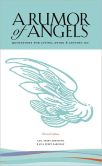 Music
Consoling Wings: An Album for Those Who Grieve (Constant Change)
Love's Gotta Go Somewhere (Steve Richard)